As Founder and CEO of the nation's largest network on independent medical billing companies, I have seen the future for the medical billing industry and it is bright!
By Patrick Phillips, Founder/CEO of American Business Systems, LLC
Originally Published in BC Advantage Magazine, August-September, 2013
It's true that there are a number of changes in the healthcare industry coming in the next few years that will be a challenge to those involved in the medical billing industry. But the opportunities for growth and profits outshines every challenge. Here's why:
Doctors need to focus on patient care, not the business side of their practice.
With the influx of 30 million Americans who did not have insurance but now do (ACA), doctors and their staff are hard-pressed to manage the patient well-care and keep up with all the changes in coding and billing.
With hundreds of new patients, the doctor and her staff will need to spend their time caring for those new patients, not figuring out how to use new technology to get their money.
They will realize, at some point, that they are trying to run two businesses: the business of patient care and the business of billing and collections. The smart doctors will realize that it makes more sense to focus on their core competency, which is helping patients get well and leave the billing to experts who work with insurance companies and government agencies on a daily basis for multiple clients.
Trying to keep up with the advances in medicine and medical technology is challenging enough. Keeping up with new cloud-based practice management and electronic health record systems is something best left to those who specialize in this arena, not just for one practice, but for multiple practices.
Private practices are struggling to fight off acquisitions and mergers.
As more and more hospitals buy out private practices and larger practices merge with smaller practices, the doctor who wants to stay independent and run their own private practice are going to have to cut costs and be more efficient in building and maintaining their patient base.
These doctors don't want to become employees of a hospital, nor do they want to limit their income or lose control of their workday and duties. Those who have given in to the pressure to be absorbed by the hospitals and large groups are realizing that they are no longer in control and do not wish to be told what to do, when to work and how much time they can spend with their patients or what procedures that can provide. A recent survey of 2,094 physicians who own their own practices found that 58% of solo practitioners are not looking to sell, according to the survey's sponsors, CareCloud and QuantiaMD. They value their autonomy and long-term relationships with patients and want to maintain their practices.
Richard Fu, an Accenture strategy consultant, says "Independent practitioners can weather this change in market pressures by enhancing their value proposition to patients. They need to focus on the core, personal, attentive care provided to each patient while enhancing their practice with modern technologies expected from large companies."
The only way some will be able to survive and stay independent is to turn the billing and collections over to an outside firm who can provide these services at a set percentage of the money actually collected. This is motivation that the doctor's own staff does not have, since the billing company's revenue is dependent on maximizing the collections for the practice.
The looming shortage of doctors will force practices to find time for seeing more patients.
The American Association of Medical Colleges estimates that by 2015 the shortage of doctors across all specialties will quadruple to more than 60,000. By 2025 that number will reach a staggering 130,000.
As mentioned earlier, I am pleased that 30 million Americans have health insurance for the first time. But health insurance is pretty useless if you can't find a doctor to treat you and your family. What does this mean for those physicians who are in practice?
Simple: they must spend all their time focused on seeing and taking care of these additional patients. Period. There will be no time to spend on the "business side" of their practice, and they will need to outsource this side of their practice to specialists who keep up with the changes in the medical billing industry and who interact with insurance companies and Medicare and Medicaid on a regular basis.
This is why I recommend that billing company owners position themselves as Medical Reimbursement Specialists or Medical Revenue Consultants. They must be more than just "medical billers". In today's fast-changing world, they need to figure out how to provide more than just "claims filing" for medical providers. They need to transform their business in such as way as to be able to solve the entire cash-flow of a medical practice. They need to make alliances with providers of other revenue cycle solutions to plug the leaks in the practices' cash-flow from start to finish.
Physicians are struggling to maintain their income and stay in practice.
A survey of 699 doctors by the Doctor Patient Medical Association asked doctors about their current financial situation. Two out of three responded they were "just squeaking by" or "in the red" financially.
In another survey by Deloitte Center for Health Solutions, 600 doctors found four in 10 doctors reported their take-home pay decreased from 2011 to 2012 and more than half said the pay cut was at least 10 per cent. 48% of all doctors believed their income would drop again in 2012 as a result of the health care law.
So, what does that mean for billing companies? It means your role in helping doctors manage their revenue cycle is even more important than ever. Every aspect of the revenue cycle should be examined to see if there are "leaks" and auxiliary services that can help with patient payments, collection of bad debt, a review of the codes being used, pre-audits for HIPAA and Medicare violations should be offered to the practice to insure maximum cash-flow.
If you are positioning yourself and your company to provide this type of help to physicians, you will not only help many practices stay independent and profitable, but you will insure that your company will prosper and grow and that you will have a bright future in the medical billing industry.
Looking for a low cost healthcare business? Look no further!
Patrick Phillips, Founder and CEO of American Business Systems interviews successful medical business owners Brandi and James Johnson, recent graduates of the ABS medical billing training workshop. James and Brandi are Franchise Consultants, helping people find the perfect business. They ran across ABS and decided that it was the best Low Cost Healthcare Business for them. This is their story.
They have been able to secure 3 clients in their first 2 months with several doctors expressing interest and will be signing up soon. Listen as Brandi describes how she will definitely see ROI in a year and how she is filling up her pipeline with practice analyses, software demos (done by ABS) and proposals.
She almost shares TOO MUCH information about the best way to market to doctors!
When evaluating Medical Billing Software, Practice Management Software, or even Electronic Medical Records Software, there are key features you need to look for and there are some things you need to avoid.
(This recent article discussing the amazing growth of the Revenue Cycle Managment (RCM) industry also lists web-based or cloud based software as the way most doctors are going these days. The article states that "web and cloud-based RCM solutions are growing at double digit CAGR from 2016 to 2021." So, we felt it appropriate to re-publish this article.)
By: Patrick Phillips, Founder/CEO American Business Systems, LLC
(Originally Published in BC Magazine – Oct 2013)
Having worked with some of the major technology companies to find the ideal software to maximize the revenue of a medical practice, let me share with you, first, a warning about server-based software systems.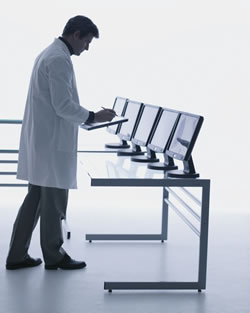 Server-based refers to software that is literally installed from a CD or DVD onto the hard disk of your computer-the "server." This is old-school technology and should not even be considered for a modern medical practice. Especially in light of the HIPAA rules for patient privacy.
Imagine having a computer in your office, with all your patient records, stolen and sold on the open market! Even if you had a backup (another problem with server-based software!), your patient data is now in the hands of someone who could post it all on the Internet for the whole world to see (or sell it to some nefarious individual wishing to market some medical quackery to the patients).
And then there is the problem of hardware failure. It is not a matter of IF your hard disk will fail, but simply WHEN it fails. Then what? How many people make regular (read daily) backups of their hard disk data? And when a computer crashes, there goes all your patient history, including balances owed, and all your claims history, including insurance information.
And, if you are using a scheduling program, now you do not know which patients will show up when. It is a nightmare not worth even considering in today's cloud-based environment.
There is even server-based software that can be installed on a VPN (virtual private network) to share the data between an outside medical billing company and your office. A piece of software is used to bridge between the medical biller and your computer. This is a huge HIPAA privacy risk, as well as a synchronization nightmare. Bottom line: Don't even think about server-based software if you are currently shopping for practice management and Medical Billing Software.
And if you are currently using server-based software, you need to start shopping for a cloud-based practice management system that is hosted on a software provider's server and accessed via the web using any browser. If you are looking for a billing company, make sure you ask if they use a server-based system or if you can access the system through an Internet connection from anywhere, 24/7.
Here are some other things you need to check before outsourcing your billing or buying a practice management system for your office:
First and foremost, ask about the security of your data. If your patient and billing data is out there in "the cloud," how secure is it compared to having your data stored on your own computer or server?
What you want to ask the Medical Billing Software provider is this: "Are your servers HIPAA-compliant?" If the answer is yes, ask for proof. If the answer is "not sure," run as fast as you can.
Most systems that are cloud-based are HIPAA-compliant. Which means, they are in a secure facility with redundant backup servers (the data is stored on more than one physical server). These servers may be in the same physical location, so make sure there is at least one other physical location (preferably in a different electrical grid somewhere else in the country). That way, if one server crashes or there is an electrical outage, the other server will kick in, and you, the user, will not even be aware there was a problem.
Make sure that the data on all the servers is backed up, daily, onto other media and stored in a separate, secure location. This is something that needs to be automated and happens "behind the scenes" at least once a day. Again, what if the server in one location blows up or the building it is in burns down, and the other server malfunctions and the hard disk crashes? Your provider needs to be able to restore the backup data to new servers and get you up and running within 24 hours. Ask specifically for their backup protocol.
Next, ask about specific features.
System Features. Is the system truly cloud-based? That is, can you access the system from any computer with an Internet connection? (One way you can tell is to ask if there is any software that needs to reside on the computer you are using in order to access the system.)
Is the system accredited by EHNAC (www.ehnac.org)?
Is the system connected to a certified CAQH COR Phase 1 Clearinghouse? (Google any of these terms you are not familiar with.) Is the system totally integrated with a clearinghouse, the billing system, scheduling, and clinical (including EHR)?
Is the EHR compliant with the data standards that are mandated by Meaningful Use?
Does the system automatically post payments and adjustments to the patient ledgers from electronic EOBs (ERAs) from payers?
Does the system have a Patient Portal that is integrated (all data entered by the patient is immediately available in all parts of the system)? Will the software provider assist with seamless data interchange with other healthcare systems?
Some of the standards that assist with integration and that you should ask about include Health Level 7 (HL7), ANSI X12 (the HIPAA Standard), Secure FTP (File Transfer Protocol), and HTTPS. You may not understand what all these mean (Google them!) but your software provider will know.
System Users. How many users can you put on the system? Is there a charge for additional users? Can each user be assigned limited access to certain parts of the system? You may have a data entry clerk who only needs to be able to add patient and insurance data. Another may just need to process the insurance claims. Another may be in charge of patient billing. And, of course, you will need full access for any person authorized to administer the system (adding and deleting users, setting their access level, running reports, etc.).
Billing. What is the average claims rejection rate from all payers (some systems average less than 2% rejection)? Can you place a claim on hold if more data is required? Can you print in PDF format or directly to CMS 1500 forms? Can you track your claim (like you can a FedEx package)? Can you create secondary claims to payers? Can the system email you if a claim is rejected? Can the system automatically, on a periodic basis, report on the first pass of all claims, total rejects, rejection categories, reworked (resubmitted) claims, and transaction summaries? Does the system have the ability to show reports as multi-colored bar charts, suitable for printing?
Reporting. What specific types of reports can be generated? Can you create your own reports? If not, can the software developer create reports for you, and, if so, is there a charge for this? Can the reports be exported to Excel or PDF format as well as being viewed on the computer? Can the reports be restricted to certain users only?
Eligibility checking. Can the system run eligibility checks on any patient at any time? Is this done in real time, checking the insurance company's database and reporting back to your system immediately and accurately? Can the system automatically re-check the patient's eligibility a day prior to every patient's visit? Is there a charge for each eligibility check or is this covered in the monthly access fee for the system (or included in the percentage charged by the billing company)? Upon a successful eligibility check, does the patient data import from the insurance payer directly into the system?
Scheduling. Does the system have a web-based scheduler, available from any web-connected device, including smartphones, iPads, and tablets? Will it accommodate multiple providers and their appointments? Is it integrated with the eligibility feature?
Codes. Are all CPT and ICD-9 codes built into the system? How often are they updated, and is there a charge for updating the codes? Is the system ICD-10 ready?
Training. Is there live training available via GoToMeeting or live on-site training? How many hours of training will be given to our practice? Can as many staff members be trained as needed or is there an extra charge for additional users or hours of training? Are there recorded training modules available via the Web? Can all users access this training?
Support. Is support available 24/7, and, if not, what hours is it available? Is support by phone, live chat, email, or all three? How many support personnel are available and at what times? Is support available to all users or just the Administrator? Has the company won any awards for their customer support? Are there any references I can call to verify the level of support they get?
In summary, ask lots of questions, even if you don't know exactly what they mean. Your Medical Billing Software rep will know what they mean and will get you the answer if they don't know the answer. Write these down and hold them to getting you the answers or tell them you are not going to consider their software/system.
ABS Licensee Tracie Clark Reviews American Business Systems with CEO Patrick Phillips. Tracie finished her medical billing revenue training 3 years ago and has built an incredible medical revenue management business providing services to many doctors across the country.
Tracie was in healthcare on the insurance payor side but had never started her own business before.
Tracie has now moved her business to North Carolina and grown so much she opened up an office, hired staff and sales people, and is now billing for a total of 11 providers with more on the horizon! She is working with everything from sleep medicine, Surgeons, OBGYN and General Practice doctors!
She got her clients from a variety of marketing methods that we teach: direct marketing, networking, drip mail campaigns and referrals from existing clients!
Click the webinar to hear more details from Tracie:
Hear from people with all different background and business experience talk about how they felt about the ABS medical revenue business training class that we did in March.
Click here for many more testimonials!
Learn how you too can become a successful medical business owner!
Join ABS Founder and CEO Patrick Phillips as he chats with a licensee from Alabama, Tim Warren. Tim launched his medical business mid 2012 and with our help, has signed multiple dermatology and gynecology clinics as clients. Tim's wife quit her full time job at Coca-Cola in January 2013 to work full time with him and they are expanding their business by hiring sales reps.
Tim has nearly DOUBLED revenue for some of his doctor clients! It goes without saying that his clients are never going anywhere else for their revenue cycle needs.
Even though they have around 15 clients, they still work from home and want to keep it that way! Tim explains that each of his doctors that he signs up is worth about $2,000 – $5,000 per month in gross revenue for his business! Can you do the math on that?
This is a healthcare business made easy, with a solid marketing and support team to help you as you go.
In this webinar, Patrick Phillips, Founder and CEO, & Eric Ogea, Business Coach walk you through our foolproof process to build a business helping Doctors using Analysis, Demo, Proposal, Agreement. (Hint: We're with you every step of the way)
The technology can make all the difference! Doctors and their staff LOVE using our iClaim & EMRx systems in their practices. We will show you the online patient portal, our electronic medical records system, real-time eligibility, the online scheduler and more.
Let our experts guide you by providing full demonstrations for your potential clients. You can get involved with ZERO experience. That's right, you don't need any medical background of any kind.
Patrick and Eric, also answered questions from the audience during the webinar, so if you are looking at starting your own business, this is the webinar you don't want to miss.
How to Reprogram Yourself for Success
InterviewDailey recently sat down with ABS founder and CEO Patrick Phillips to chat about his book "How to Reprogram Yourself for Success" and how positive thinking was the key to him changing his mindset to a SUCCESS mindset.
Patrick has taught thousands of people from coast-to-coast on how to use the secrets found in his book, How to Reprogram Yourself for Success to become more prosperous and productive.
Lonnie has built a successful low cost medical billing business helping doctors with their billing and other revenue challenges and agreed to speak with us about how you can duplicate his success! He answered many different questions about the healthcare industry, small business ownership, hiring and training sales reps, and more!
There is still time to start a wildly profitable business in healthcare. Let us show you how you can start your own business helping doctors during this live webcast.
Many Doctors aren't happy with their current systems and processes and want help. You can get involved with ZERO experience.
Take the e-Tour today to learn more!
American Business Systems is the BEST Healthcare Business Opportunity in America! Start a new business in the exciting and growing healthcare industry, with ZERO experience!
Join ABS Business Coach Eric Ogea, and Adam Phillips, President of ABS, as they explain the 3 unique facets of the ABS business opportunity:
– Live Training
– Lifetime Support
– 100% Money Back Guarantee
You'll also learn about the projected growth for the healthcare field and how you can tap into it! They also take questions from attendees and answered many questions that people had about this.
Contact us today to learn more!
Older Articles »